The new way to measure moisture
.
The hmbox® is a digital measuring instrument that measures the moisture of different building materials such as e.g. Screeds/Substrates. By attaching to the ground, the moisture can be measured in a user-friendly and non-destructive way.
Data is collected and transmitted via GSM to a central server that can be viewed on any internet connected device.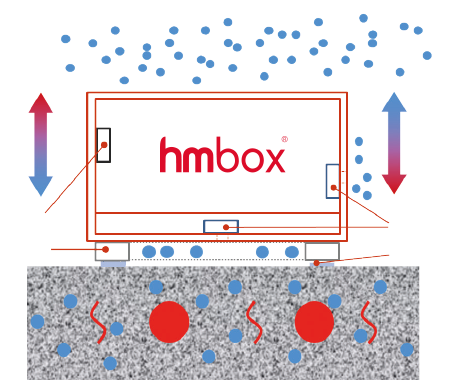 GSM
1 of 4
Aluring
2 of 4
Sensors
3 of 4
fix glue
4 of 4
The aluminum ring of the hmbox® is fixed with fix glue to
the floor. In the cavity of the alu-ring the sensors measure the relative humidity and the temperature of the material below.

Sensors in the housing measure the temperature and relative
humidity of the room.
The hmbox® indicates the right time for installation of a floor
covering.
Quality and transparency for increased customer satisfaction!